Plain Label Podcast: Pod Shots – Looper
Podcast: Play in new window | Download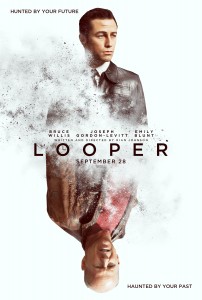 Welcome back to another episode of Pod Shots!  In this episode I'm joined by my regular Plain Label Podcast host, Rachel Kruse as we discuss the 2012 film Looper!  We begin with a breakdown of the cast from Joseph Gordon-Levitt as Joe, to Emily Blunt as Sarah, Bruce Willis as Old Joe, Jeff Daniels as Abe, and the always sniveling Paul Dano as Seth.  
We then dive into spoiler territory with a discussion of the film and the high and low points of the plot.  We examine the time travel, and how it works and discuss the slippery subject of nature vs. nurture.  It's a great film and another entertaining discussion on Pod Shots!
Music:
Nick Murray & Mark Moore – K.I.L.L.
From the album "Rage" by Xtortion Audio.
Facebook: Eric Williams, Plain Label Podcast, Rachel Kruse
Twitter: @EricWilliams79, @PlainLabelPod, @RachAttack606
http://plainlabelpodcast.tumblr.com
Comments are closed.