Plain Label Podcast: Pod Shots – Cloud Atlas
Podcast: Play in new window | Download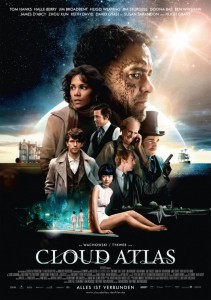 Welcome back to another episode of Pod Shots!  In this episode I'm joined by returning guest Sean Stangland, as we discuss the 2012 film Cloud Atlas.  Based on the book written by David Mitchell, the film was co-written and co-directed by Tom Tykwer and Lana & Andy Wachowski.  The film stars Tom Hanks, Halle Barry, Hugo Weaving, Jim Broadbent, Doona Bae, Jim Sturgess, Ben Whishaw, and James D'Arcy!  
We start off with our history of the film/book.  We then move into breaking down each of the six sections of the film and discussing which of them are the most and least successful.  We then give a discussion on what the film means and what the birthmark means.  Finally Eric and Sean discuss why this film fits in so well with Sunshine and Prometheus, the other two films that Sean has been a part of Plain Label Podcast for.  It's an interesting discussion and another entertaining episode of Pod Shots!
Music:
Cloud Atlas Theme
Facebook: Eric Williams, Plain Label Podcast, Sean Stangland
Twitter: @EricWilliams79, @PlainLabelPod, @AngryDisneyNerd @SeanStanglandDH
http://plainlabelpodcast.tumblr.com
Comments are closed.