Plain Label Podcast: Pod Shots – Bronson
Podcast: Play in new window | Download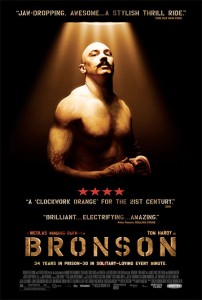 Welcome back to another episode of Pod Shots! In this episode I'm joined by Andy Ruiz as we talk about the biopic Bronson! Before we begin the discussion, Eric explains why he loves Tom Hardy so much. They begin their discussion on the film and director/co-writer Nicolas Winding Refn. Eric begins and dominates the discussion going into details about why he enjoys the film so much. They talk about Hardy's performance, the choice of music, the decision to tell the story in the way that it's told, and they discuss some of the more entertaining quotes in the film. It's an interesting discussion and another entertaining episode of Pod Shots!
Music: Glass Candy – Bronson Theme
Facebook: Eric Williams, Plain Label Podcast, Andy Ruiz
Twitter: @EricWilliams79, @PlainLabelPod, @AndyMRuiz
http://plainlabelpodcast.tumblr.com
Comments are closed.