PLP – V2E9 – Reluctant Heroes Part 1
Podcast: Play in new window | Download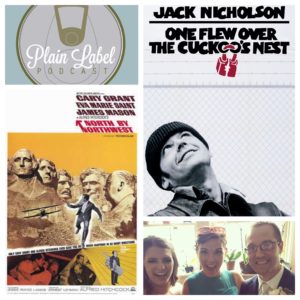 In this episode we begin our theme of movies with Reluctant and/or Anti-Heroes with a discussion of the films North by Northwest and One Flew Over the Cuckoo's Nest.
As a reminder, we still have our Amazon affiliation so if you wanted to help out the podcast, you could either head over to our wish-list or you could click on the shopping link and bookmark that page.  Then anytime you purchase anything from Amazon, you'll be helping us out in the process without even having to think about it.  Thank you for listening and we'll be back next week with a discussion on the films Dog Day Afternoon and Falling Down.
Plain Label Podcast Amazon Wish-List!! http://www.amazon.com/gp/registry/wishlist/1UD8DV6DTZEEW/ref=topnav_lists_2
Amazon Shopping Link!! http://amzn.to/2rVTQnF
Music: Jack Nitzsche – One Flew Over the Cuckoo's Nest Theme
Facebook: Plain Label Podcast
Twitter: @EricWilliams79  @PlainLabelPod
Instagram: PlainLabelPodcast
Comments are closed.