Podcast: Play in new window | Download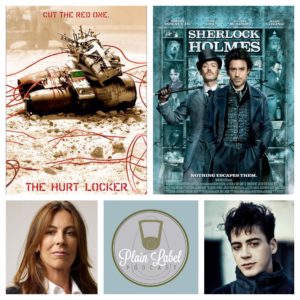 In this episode we continue our theme of Comebacks with a look at Kathryn Bigelow and Robert Downey Jr. and the films The Hurt Locker and Sherlock Holmes.
We begin with a discussion on war films, Kathryn Bigelow's choice of style and some characters we love to hate.
We then move into Sherlock Holmes and Robert Downey Jr. We discuss whether or not Downey Jr. needs to play someone other than himself in a film and our overall takes on this actionized version of the famous literary character.
As a reminder, we still have our Amazon affiliation so if you wanted to help out the podcast, you could either head over to our wish-list or you could click on the shopping link and bookmark that page.  Then anytime you purchase anything from Amazon, you'll be helping us out in the process without even having to think about it.  Thank you again and join us next week for our final discussion on comebacks with a look at the HBO series, True Detective.
Plain Label Podcast Amazon Wish-List!! http://www.amazon.com/gp/registry/wishlist/1UD8DV6DTZEEW/ref=topnav_lists_2
Amazon Shopping Link!! http://amzn.to/2rVTQnF
Music: The Dubliners – Rocky Road to Dublin
Facebook: Plain Label Podcast
Twitter: @EricWilliams79  @PlainLabelPod
Instagram: PlainLabelPodcast